Secure Your Athlete's Spot in Our Limited 8-Week Cohort for Elite Mental Training
Want your child to outperform not just physically, but mentally too?
Confidence Has No Competition
With Restoic's scientifically-backed programs, athletes gain access to the tools and techniques
used by NCAA athletes, professionals, and Olympic gold medalists.
100K+
Supported Through Partnerships
6,000
Active Member Community
100+
5-Star App Store Reviews
3
Years Innovating Proactive Solutions
OUR WHY
Nearly 1 in 3 student-athletes experience mental health challenges during high school and college. Performance anxiety being most common.
We Understand How to Train Gen Z Athletes Like No One Else
Shaping Gen Z Champions
Our unique insight into the Gen Z athletic mind, gained through collaboration with over 100 NCAA D1 Student Athlete Advisory Committees, instills powerful self-belief and confidence in athletes.
Learn Scientifically-Proven Mental Skills From Experts
Elevate Performance with Restoic's One-of-a-Kind Network
Leveraging our network of mental health counselors, sport psychologists, and performance specialists, Restoic equips your athlete with the scientifically-backed mental skills used by top performers.
Resilience, Your Athlete's Secret Weapon
Embrace the Uncomfortable
Our pioneering approach fosters resilience, empowering athletes to navigate challenges on the field and beyond, nurturing their mental wellness and preparing them for life's trials.
Guarantee Your Gen Z Athlete's Spot in our Successful 8-Week Cohort, Starting September 1st, 2023!
2023-09-01T16:47:00+0000
THE 8-WEEK COHORT JOURNEY
A Snapshot of Your Transformation
Week 1: Foundation Week, Your Why & Goals
Kickstart your journey by uncovering your 'why' and setting impactful goals. Immerse yourself in an introduction to sports psychology, setting the groundwork for your mental training.
Week 2: Vision Week, Mastering Visualization
Engage in leadership visualization activities and track your goal-setting progress. Learn about the influential roles of imagery and visualization in your pre, during, and post-competition routines.
Week 3: Empowerment Week, Enhancing Self-Talk
Participate in self-talk reframing activities and challenge yourself over two weeks to harness the power of positive self-talk. Gain tools for effective concentration and learn techniques to manage your in-competition mindset.
Week 4: Balance Week, Embracing Relaxation
Learn and practice relaxation breathing techniques. Keep track of your goals and review your progress so far. Gain knowledge about relaxation techniques like diaphragmatic breathing, progressive muscle relaxation, and mindful breathing.
Week 5: Mindfulness Week, Preparing for Competition
Dive into activities designed to prepare you for competition and maintain your goal-setting progress. Understand the importance of mindfulness and learn the art of meditation, empowering you on the morning of and during competition.
Week 6: Control Week, Managing Performance Anxiety
Engage in activities aimed at slowing down and managing performance anxiety. Learn about the body scan technique and use mindfulness to aid in injury recovery.
Week 7: Affirmation Week, Embracing Positivity
Boost your confidence through athlete affirmation activities and continue tracking your goal-setting progress. Delve into guided meditation sessions and use affirmations to inspire and reboot your athlete mindset.
Week 8: Gratitude Week, Nurturing Thankfulness
Participate in gratitude activities and identify your pillars of continued success. Keep tracking your progress and participate in a monthly review. Learn about the value of restorative sleep, daily gratitude practices, and mindful walking.
REAL ATHLETES. REAL RESULTS.
Testimonials from Our Gen Z Champions
Athletes Need This
As a college athlete, I've learned that working on my mindset is so powerful in my performance. Restoic has helped me become a better version of myself on and off the field, and I wish I would've used these lessons earlier in my career.
Bella Loomis
Student-Athlete at Arizona State University
Highly Recommend
I love the Restoic program. It has many different topics to learn on, as well as help me develop habits that positively affect my life. My favorite is "Self-Talk", and how it goes into detail about how you are, what you think and the importance of positive affirmations.
Kendell Brooks
Student-Athlete at Michigan State University
Helped Me Find Balance
As a student athlete, life is so stressful and chaotic. This program has really helped re-balance my day to day life. The meditation, breathwork, and soundscapes are perfect for mornings and nights, getting ready for the day, and winding down. It truly is amazing.
Elliot Pribramsky
Student-Athlete at University of Colorado
Designed for All Athletes
As someone who's struggled with race-day nerves, this changed when I started training with Restoic. Their program is amazing because it is aimed specifically for athletes, and helps me get ready to perform at my best, along with allowing me to flip a switch after a meet and recover as best as possible.
Bence Szabados
Student-Athlete at University of Michigan
Exceeded Expectations
Restoic's content has become a daily thing for me. Not only does it help calm my anxiety, but it allows me to focus on my goals, big or small! The Restoic progam contains so many different tools that have helped me become the best athlete I can be on and off the court.
Taylor O'Malley
Student-Athlete at University of Illinois at Chicago
Listen to NBA basketball player C.J. Watson share why he recommends Restoic to parents.
Restoic has helped my daughter fight through tough practices and games. Maybe she would lose confidence or doubt herself and now it's helped her in big moments and games where she can gain that confidence back when she's needed to be her best. I always tell her that the mental aspect of sports is what separates the good players from the great players. I wish I had something like Restoic growing up and I believe every athlete should be using this to help them prepare mentally for the game and after the game.
C.J. Watson
10 Year NBA Veteran
SIGN UP NOW
Join Restoic's Next 8-Week Cohort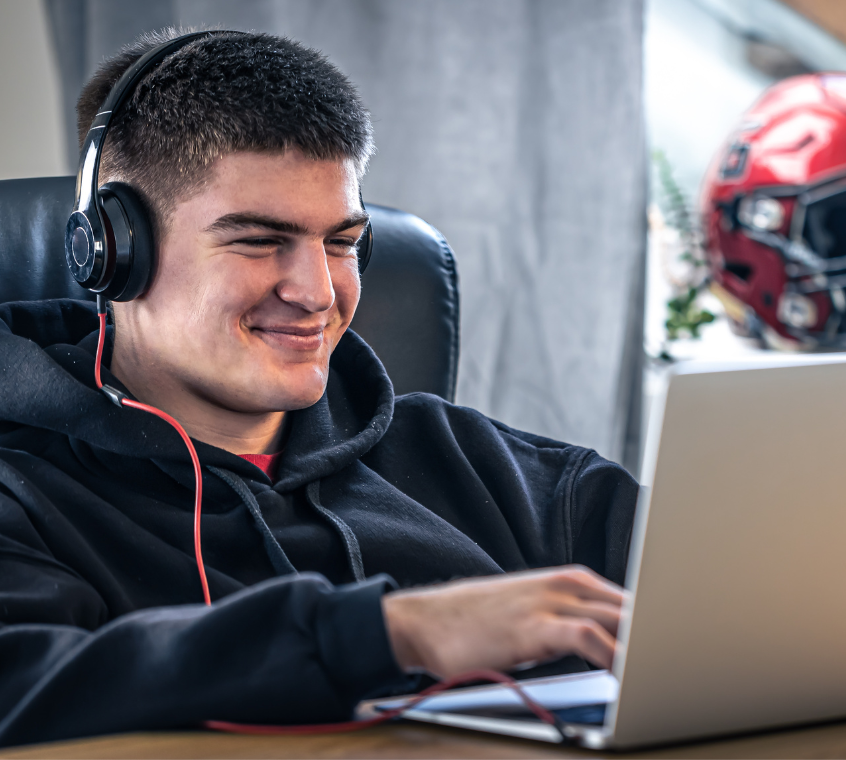 WHAT'S INCLUDED IN THE 8-WEEK COHORT
Unlock $10,500 Worth of Unmatched Value for Your Athlete
1.
8-Week Mental Training Program with App Access ($3,500 value)
Step into our evidence-backed program, designed meticulously to assist athletes in enhancing their mindset, fostering resilience, and unlocking peak performance. Our offering includes weekly live sessions with a supportive small cohort, on-demand access to recorded video modules, and the comprehensive Restoic App, compatible with both iOS and Android. Each element of this program is uniquely tailored to address individual needs, boasting a proven track record of effectiveness and assuring an unparalleled quality of experience and impact.
2.
Three One-On-One Coaching Sessions ($1,500 value)
Benefit from personalized coaching with three intensive 30-minute, one-on-one sessions, spaced monthly. These sessions are designed to guide athletes through the program while addressing their distinct challenges, paving the way for bespoke solutions to enhance performance.
3.
Weekly Accountability Check-Ins ($1,000 value)
Leverage the power of regular coach check-ins that keep athletes accountable, motivated, and firmly on the path to their goals. This mechanism ensures consistent progress and propels athletes to the finish line.
4.
Comprehensive Program Materials ($1,000 value)
Navigate through the mental training journey with our complete set of program materials. These curated resources, including printable worksheets, checklists, and effective techniques, provide an easy-to-follow roadmap to improve mindset and fortify mental toughness, leading athletes to new horizons of success.
5.
Unlimited Communication ($500 value)
Enjoy the freedom to exchange as many text, voice, or video messages with your coach as you need. Have questions, need feedback, or just want to discuss your progress? We're here for you. This feature provides responses within 24 hours, ensuring there are no barriers in your path to improvement.
6.
Personalized Mental Fitness Assessment ($500 value)
Gain deep insights into your athletic mental fitness with our personalized assessment. Understand your strengths and pinpoint areas for improvement to tailor the program to your unique needs, setting a strong foundation for a resilient mindset.
7.
Goal-Setting Module and Printable Resources ($500 value)
Complete your journey to success in sports, and beyond, with our bonus module centered on goal-setting. Armed with printable worksheets and checklists, athletes can meticulously track their progress, maintain focus, and organize their aspirations, fostering an environment of continuous growth. 
8.
LIMITED-TIME BONUS: Priority Parent Communication ($2,000 value)
Stay informed about your athlete's progress and challenges with weekly 30-minute check-ins. Our coaches will provide detailed updates and offer advice on how to best support your athlete's mental fitness journey at home. This add-on ensures consistent, open communication between coaches, athletes, and parents, promoting a unified team approach to mental wellness.
Our Promise to You and Your Athlete
Our program demands dedication, designed for athletes ready to level up their game and future. This is why we back it with our Unbeatable Guarantee: if you don't see a noticeable improvement in your child's mental resilience and sports performance after fully participating, we'll offer a full refund. This is our commitment to your athlete's success.