Secrets of the Ultimate Champion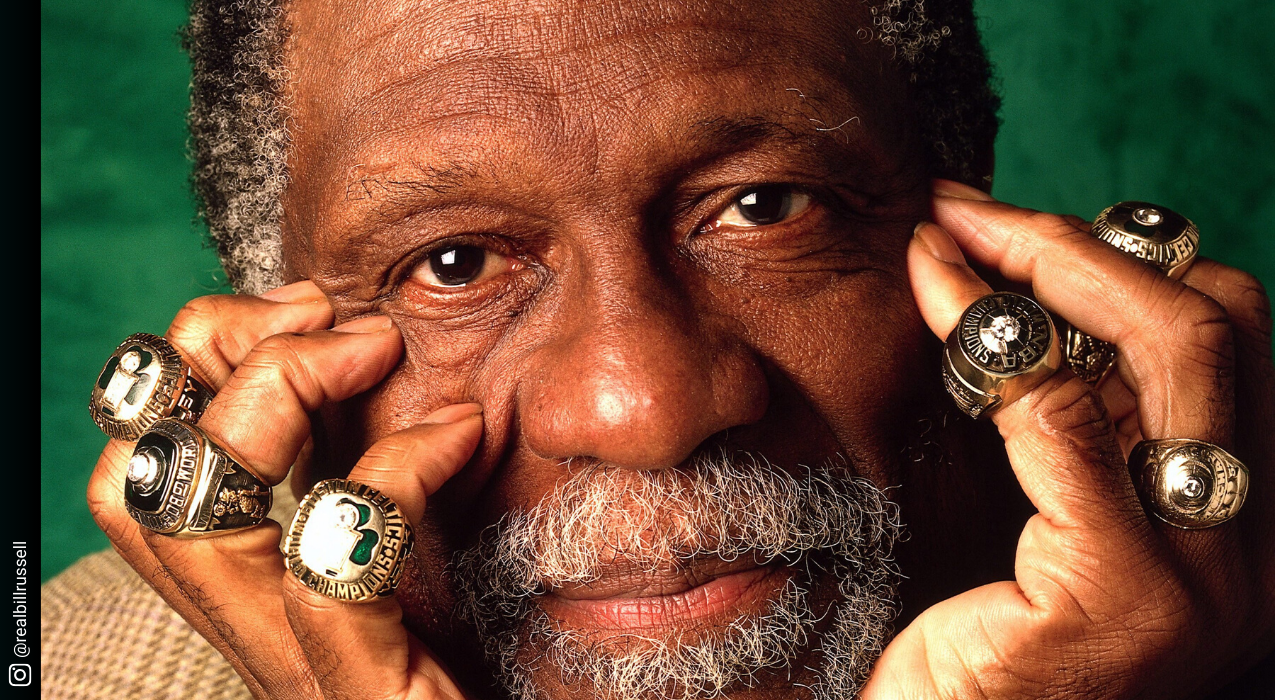 When the debate of the greatest of all time comes around, many basketball fans will point to the likes of Michael Jordan or Kobe Bryant. Seems reasonable enough, right? These legends effectively transformed the game, while collecting a jaw-dropping 11 championships between the two of them. On their path to super stardom, both were known for their work ethic, skill, and most importantly, a winner's mentality. You've likely heard interviews of how both would utilize their mindset to gain a competitive advantage in their pursuit of greatness. As Hall-of-Fame players, Jordan and Kobe have reached the mountaintop and rightfully deserve to be in the G.O.A.T. discussion.
The Overlooked Champion
One name that is often overlooked and rarely mentioned in this conversation is Boston Celtics legend, Bill Russell. For those of you unfamiliar with Russell, look no further than the NBA Finals MVP Award, which has been named in his honor. This is in large part due to his success on the highest stage and the amount of times he's hoisted the championship trophy. What's even more impressive is that he doesn't have enough fingers for all of his rings! That's because Bill Russell has amassed 11 championships (same as Jordan and Kobe – combined). Interestingly enough, he achieved this record during a 13-year playing career. It's worth noting that prior to his NBA career, Russell led University of San Francisco to NCAA championships in 1955 and 1956. In doing so, he's proven to be a true champion at every level.
Now, the goal isn't to argue who is or isn't the G.O.A.T, but rather to understand the mindset of a player who has won more championships than anybody to ever play the game. At the highest level, the difference between good and great is minuscule. Athleticism and skill continue to be maximized, but there is one major part of the game that remains untapped to the vast majority of athletes – the mind.
Bill Russell, along with many other champions, capitalized on this tool and, in the process, elevated their games to new heights. More specifically, they've unlocked the secrets of the performance-based psychological skills. Whether it be relaxation, self-talk, imagery, goal setting or concentration, each serve a valuable purpose in reaching your ultimate dream.
Explore Your Mind-Body Connection
It's widely known that Kobe Bryant and Michael Jordan practiced mindfulness during their playing careers with Kobe even stating, "I meditate every day and I usually do it for ten or fifteen minutes in the morning, as that prepares me to face whatever comes next." He's not alone.
Bill Russell famously explains, "Concentration and mental toughness are the margins of victory." And just in case you think further proof is needed, 2-time MVP Steph Curry believes, "Your state of mind is the main driving force behind your successes and failures." Ordinary methods produce ordinary results. Extraordinary methods, such as mindfulness training, produce extraordinary results. Champions are willing to go the extra mile. Are you?